7th International Core Energetics Convention 2016

Italy- Brindisi
Sept 28th- Oct 2nd
"Into the Core roots – What is Core Energetics all about?"
The Italian Institute of Core Energetics has the pleasure of inviting you to take part in the 7th International Core Energetics Convention that will be held (Sept 28th– Oct 2nd 2016) near Brindisi, in a wonderful location in Italy, just 20 minutes far from the airport.
It has been so many years since the last International Convention in 2001.
In the summer of 2014 more than 60 Core Faculty members got together for an International Leadership Conference in Berlin. On that occasion we all felt it was time for us to organize a big and open International Convention, wishing to bring together the whole Core Community. The Convention in Italy is offered in this spirit of inclusion. We recognise that there are old wounds and splits within the community that may need attention and healing. We trust in ourselves as a community to hold and transform conflict in love and compassion. It is our hope that this gathering will support us all to take  a step towards greater unity with one another. Everyone is welcome and we would love for you to participate.
This one in Italy will be a Convention to really connect and reconnect all together with the essence of Core Energetics and its roots (as when it started in Phoenicia with John and Eva) and to see how, grounding in these roots, we can develop the Core Energetics Evolutionary Process in new ways all around the World!
In keeping with the essence of Core Energetics, our intention is to build an international community, to deepen contacts, to get support for the things that challenge us, to bring new ideas to our work, to be inspired, and to have a lot of pleasure and fun of course!
We are so excited about the opportunities to learn from the multitude of "core" talents and "wisdoms" around the globe.
The Convention will be open to every senior Core teacher and every Core Energetics Alumni, graduated from the Core Energetics Institutes around the world. It is also open to all the students from a Core Energetics Institute and Core trainings. Families are welcome too.
The format of the Convention will include large group gatherings, lectures and workshops. Anyone who feels a calling to present a workshop or lecture can submit a proposal.
We look forward to strengthening our roots together, as we are preparing to transmit the Core Evolutionary Process to next generations.
See you in Brindisi!
With love, 
Ivan & Nicoletta
Directors of the Italian Institute of Core Energetics
Program
Whe

re a

nd when
The event will take place from Wednesday afternoon, September 28th at 4 pm, to Sunday afternoon, October 2th at 3.30 pm. The location is the wonderful Riva Marina Resort, near Brindisi. http://www.cdshotels.it/en/riva-marina-resort
The resort is located 25 minutes from the airport. You can fly to Brindisi airport from Rome or Milan or many other cities in Europe.
Next to the Nature Reserve of Torre Guaceto, a short distance from 'Ostuni' the white city, Lecce and the enchanting Alberobello, surrounded by Mediterranean vegetation, Riva Marina Resort has a private beach (see the photo above). Self-supporting energy wise, the Resort offers maximum comfort to its guests with its modern rooms and suites equipped with hydro massage showers and king size beds. Large open green areas, a 'lagoon' swimming pool, large sports facilities,  excellent restaurants and one of the largest and most elegant Wellness Centres in Puglia.  You could also extend your stay to have some holidays with your family around Brindisi …think about it!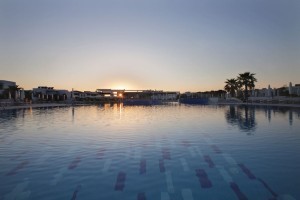 Cost 
What is included in costs: 4 days full board and coffee breaks at the Riva Marina Resort from dinner on September 28th to lunch on October 2nd and a contribution towards organization costs (we have decided not charge any Convention fee), so the same price applies to participants and accompanying people.
OPTION 1
Cost per person sharing a quadruple room (one might be a double bed)
(all 4 names necessary, to be added during the registration process)
570€
tax 22%
included
OPTION 2
Cost per person sharing a triple room (one might be a double bed)
(all 3 names necessary, to be added during the registration process)
600€
tax 22%
included
OPTION 3
Cost per person sharing a twin or double-bedded room
(both names necessary, to be added during the registration process)
625€
tax 22%
included
OPTION 4
Cost per person single occupancy of double room
678€
tax 22%
included
Additional solutions are possible (suite/children/cots) but must be tailor made and arranged contacting the Organizing Secretariat at info@studioprogress.it
Registration
To register, please follow the link below (to choose your option, please select the right "Fee" you will find on the right of your screen)
Link to: 7th International Core Energetics Convention italy-2016
When you register please send also an email to info@core-energetica.it, writing your name, surname and your very short Core autobiography (if you are or were director, faculty or past faculty, where are you studying core energetics, or where did you graduated) and we'll put you in our Convention mailing list.
Once you have booked for the convention please be informed that if you wish to arrive before September 28th or extend your stay for a few days you can do so (depending on availability).  You just need to send an email about it to the Organizing Secretariat at info@studioprogress.it
Language and translation
English will be spoken. Technical translation equipment could be available. If you wish a translation please find a translator for your group and then send us an email at info@core-energetica.it, asking for technical equipment. We could also help you to find a translator.
Contacts
For scientific queries or queries regarding Core Energetics, please contact info@core-energetica.it
For practical queries, please contact info@studioprogress.it
Fotogallery